Link: https://dannyman.toldme.com/2002/11/20/iftar-in-the-sky/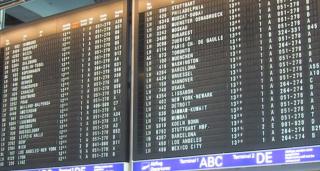 [640×400] [800×600] [Full Size]
All over Europe I'd seen signboards like this at train stations. This one at Frankfurt's airport features Philadelphia, Dubai, New York, and Mexico City along with the regional European destinations.
I kept my last 5€ and instead counted my trip to the airport on Frankfurt's S-Bahn as the concluding travel day of my train pass. At Flughafen I checked in and munched on a few of the brownies that are not welcome to linger at the diet-conscious abode of my hosts. Before long, I was flying. They served us a nice dinner, I got potatoes and lamb – good stuff! The flight was about five hours and one time zone.
At some point after dinner, as I was admiring the orange moon on the horizon, an announcement was made, and then made again in English, "Ladies and gentlemen, you may now break your fast." I hadn't thought about Ramadan as I ate. Given the choice, I would just as easily have waited for iftar with everyone else.
As we approached Israel, I remarked to my German seat neighbor, another long guy who had requested an exit row, that this was to be my first time outside of Western culture. It was an exciting time.