Slept in, managed the hole in the bathroom floor without any trouble, took a shower, wandered downstairs. I thought I'd check out the Lonely Planet walking tour of Amman, and struck out towards the third traffic circle, where Lonely Planet starts.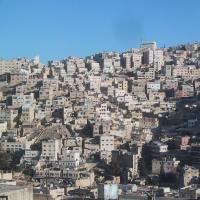 [640×400] [800×600] [Full Size]
A view of one of Amman's Jebels, or hills. This is what Amman looks like, in my mind.
I wasn't sure that I was heading the right way, just that it seemed the right direction and that anyway, it was uphill, so I had a view coming.
I stopped for a moment to greet a kid who was just finishing the installation of a muffler on an older Saab. I found myself conversing with the car's owner, who had a slightly exaggerated American accent to go with the fifteen years he'd spent in the hotel business in Los Angeles. The kid released the pressure on the jack and the car's rear plopped to the ground. Raed thought Third Circle was way out there and that I'd be walking forever, but he'd happily drive me part way there.
As he learned that the tour was self-guided and that I was extremely laid-back about timing, Raed detoured way out wherever to pick up his daughter from the Montessori school. We got there fifteen minutes early, so in true LA fashion, he drove around a little so as to avoid waiting in the hot sun.
Once we retrieved the little girl, Raed drove me to Third Circle. He demonstrated Jordanian driving at its finest through a couple of the traffic circles, where you have to barge your way in and honk a lot, like a constant game of chicken. He explained that yes, it took some getting used to for a California driver.
I dug that Raed has recently returned to Jordan to settle in to middle-age. Before this, he secured his finances in the United States, and now he can kick it with the family in a cheaper country and build himself a fine house to raise his daughter in. I figure that he sees Jordan as I see Chicago: a nice place to retire to once you've had your fill of Cali.
The walking tour was uninspiring. To be fair, it is Ramadan and I tend to enjoy myself wandering around aimlessly, without a vague narrative and a trail on a sketchy map to adhere to. At some point I stopped in a supermarket and got a litre of pineapple juice and a can of fruit cola, just for the heck of it. I stole away in to a quiet corner and chugged the cola, away from the eyes of the thirsty, fasting masses.
Along the way I passed, among others, the Iraqi Embassy. It had a barricade around it, so I walked in the street alongside it, a safe ten feet away from enemy territory. Word.
There were some good views of Amman along the way. This means rectangular white houses with dark windows piled up and down the hills, under a blue sky, and a warm sun. At one point in the late afternoon I found myself standing on a jebel overlooking a street market below. The sound of the market mixed with the horns perpetually honking in the perpetually grid-locked traffic, and I felt like I was way up in the balcony, watching an orchestra tune itself. Though, after awhile, I snapped out of it, as I realized that the orchestra wasn't going to perform anything for me.
According to the walking tour, I was supposed to work my way down to the Roman ampitheatre, which I'd sort of seen the previous night. I was instead sucked into a downtown market, where I was surrounded by crowds of folk hurrying along, buying and selling fruits, veggies, bread, meat and other comestibles. It was more intense than the other markets I've visited in Europe. The best part, for me, is the hawkers repeating their pitch over and over and over again, that they give it a musical quality and sing their deals out to passers-by. They're like birds singing their songs of courtship, standing beside their colorful displays to attract customers.
I wandered farther along into a flea market, gazing at furniture, telephones, probably-pirated CDs and VCDs and whatnot. I saw a Commodore 1541 disk drive in the same pile of random stuff as a dirty Commodore 64. Nostalgia!
There are a lot of guys in the streets who have a handful each of mobile phones for sale. One guy who spoke good English, bade me over to sit by a friend of his, who was doing just this. He explained that basically these guys were selling these phones really cheap, that they'd gotten off of other folks who had fallen on hard times or had otherwise found themselves without need for a particular cell phone. Other vendors, like the furniture guys, were selling stolen goods. Sure.
He wanted to offer me a cup of tea, but alas, it being Ramadan and all, this was not possible. If I made my way back in an hour …
"Im shah Allah," I said. If Allah wills it. Like the American, "Well, I'll sure think about that, and let you know."
I wasn't sure where I was, and I wasn't eager to backtrack, so I walked up a jebel to get a look around. Great view, but I was still lost. I ended up asking directions from a series of curious locals, asking where "Romani" was, referring to the Roman ruins, as "downtown" where my hotel was, didn't register. Near the end of this detour the sun set and when I poked my head around a doorway to get a better look at yet another friendly welcome, I saw a bunch of guys had a meal set up, to which I was invited.
Now, I'd already had some tap water today. One lady warned me that I'd suffer horrible, horrible diarrhea. Raed said that he'd had some diarrhea when he first moved here, no biggy, though bottled water was cheap enough. Now I was drinking lemon juice from shared glasses and eating, among other things, vegetables, and everything else that I'm supposed to avoid, for my health. But how am I supposed to figure out and decline what's going to make me ill, in the face of Arabic-speaking hospitality? Never one to refuse a free meal, and possessing, as I do, an iron stomach, I dug in.
We were in a dark little courtyard surrounded by stacks of older televisions. As far as I could tell, they were a crew of work-mates, sharing their iftar mansaf. One guy spoke some French, and we were able to exchange a few words. The meal, mostly chicken on yellow rice with flat bread, was filling. When the lemonade ran out, I recalled my pineapple juice, producing it to a round of applause. As the meal broke up and men began to scatter off, I once again bade them thanks, and continued on my way back towards the hotel.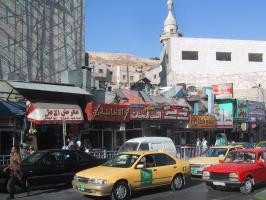 [640×400] [800×600] [Full Size]
Culture shock? Maybe a little when everyone wishes to welcome you to a bright, sunny country where you can't decipher the alphabet.
Near the very end of my expedition, I was able to pin-point my location on one of the Lonely Planet maps, when an Iraqi refugee appeared before me. He was an English teacher hoping to get refugee status in the States, and he just wanted to assure me that the Iraqi people hated Saddam Hussein and looked forward to the likely war that would bring about his demise. What did I think?
Sure, I said, George Bush wants what he calls "Regime Change" and if Saddam pisses off the inspectors, as he has always done in the past, then war is the likely result. But Bush won't go to war without the proper pretense of inspections.
It is one thing for my president to want war. It is another thing for me, my countrymen, our Congress, and our allies to support him. It seems incredible to me that any person should desire so strongly for America's bombs to fall on his country to get rid of his tyrannical leader. What do I think? I suggested that what I wanted all the more, what I would pray for as he prayed for war, was that the Iraqi people would organize themselves so that they need not rely on my own inconsistent nation to act in their favour. The Iraqis need to be able to fix their own problems, and that one Iraqi with one bullet in the right place at the right time could spare the world of Saddam Hussein with far less pain and suffering than another war with America.