Link: https://dannyman.toldme.com/2002/09/11/9-11-2002/
A little past 9AM on September 11, and I can think of no better place to be than above the clouds with Air India, slipping in from the northern Atlantic Ocean towards Eire, an hour away from touch-down at London.
I feel the physical discomfort of an abbreviated night. We got on the plane at 9PM in Chicago, which was 3AM Greenwich. Now it is 3AM in Chicago, 9AM here. 3AM wake-up call with little sleep? It is days like this that I'm reminded of my first day in Army training, at Fort McClellan, in 1994.
This time, however, the new world of experiences that I'm losing sleep for is the old world. London, here I come.
---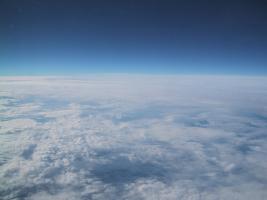 [640×400] [800×600] [Full Size]
The view over the North Atlantic, en route to London. Where better to be on September 11?
Wow
The English coast is so beautiful, seen from up here. The map of our flight progress displayed on Air India's monitors is a wonderful treat.
Most of the folks on this plane are elders. Old Indians returning to India, on a long flight from the States. I imagine that at least a few were visiting prodigal daughters and sons, who are making their ways in America.
And with them, some of us hitch a cheap ride to Europe, as they have room for us, and it is on the way. Indian passengers, served by Indian staff, serving Indian food, which was damned tasty.
The idea of Indians transporting Americans to Europe hardly strikes us as weird or novel, but there was certainly a time when it was. That this is entirely ordinary, and expected, is a wonderful, wonderful thing. I pray that all the people should find themselves comfortable in the presence of others. Familiarity promotes trust, trust promotes love, and it gets harder to hijack planes.
---
9:37AM and I can see them driving on the left! It wont be long now!