Link: https://dannyman.toldme.com/2002/09/29/copenhagen/
As it was Sunday, the tourist office was closed. I found the hotel where I was to meet the family on the map, and started on my way. They were finishing up a group tour, and I was to meet them in Copenhagen, after which they'd rent a car, and we'd spend a few days together in the Danish countryside. Just around the corner from the train station I saw a big ol' tour bus emblazoned with the name of the company that was running their tour. The bus was empty, and I wondered if it was headed to the train station to pick them up, or something.
The company could quite possibly be running more than one tour through Copenhagen. I stayed on my course towards the hotel, following the most likely route of the potentially full tour bus back to the hotel. Were it to pass by me, I am hardly an inconspicuous character.
Strolling across a small plaza, I had that feeling you get when you think someone's calling your name from afar. Since I had been travelling alone for some time, I was inclined to discard this sensation. Then I saw Uncle John, and then I figured out that Grandma had been calling out to me, from her seat within the tour bus, which had stopped for a brief photo break.
Mom was a few metres off, taking a picture of something, unaware of my presence. Uncle John suggested that I board the bus at the rear and surprise her when she returned to her seat. I opted to stay where I was to get a picture of Mom getting a picture of whatever it was, when she turned, saw me, and charged, her arms spread wide to hug her son. That made a better picture.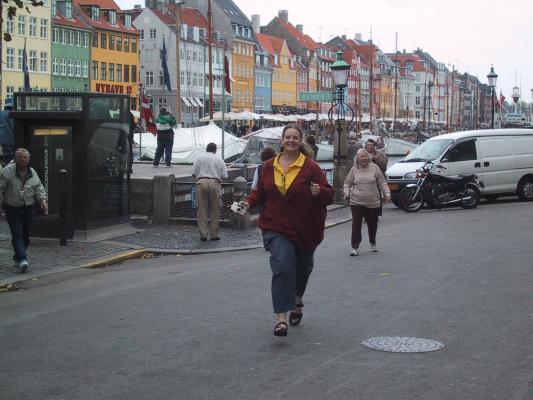 I was allowed on the tour bus to see The Little Mermaid, and the four castles of the Danish royal family. Then it was back to the hotel for a shower while Mom and Grandma took an optional tour to the country.
I was invited to join the tour group for a tasty Danish Christmas Dinner, which they were to share for their final night together. I was the youngest person there. It was good.