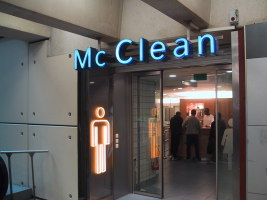 [640×400] [800×600] [Full Size]
Gotta take a leak at Gare du Nord? It'll cost you a wee bit, but it'll be . . . McClean! I am surprised that McDonald's hasn't leaned on these guys . . .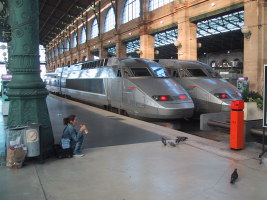 [640×400] [800×600] [Full Size]
A traveller enjoys a sandwich next to a pair of TGVs. Pigeons look on hopefully.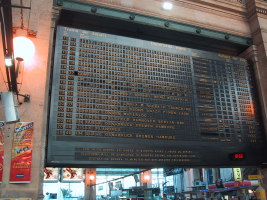 [640×400] [800×600] [Full Size]
While whiling away a layover at Gare du Nord, you can watch the dance of the mechanical signboard, flipflipflipflipflipflipping through the schedule, looking forward to your train making its appearance.
I hope the French have sufficient nostalgia to hold off replacing this.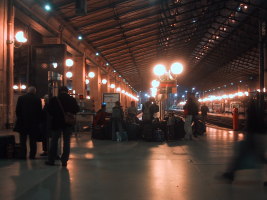 [640×400] [800×600] [Full Size]
A group of students wait collectively for their train.
It ran me 30€ to get back from Bayeaux to Paris, another 20€ for an overnight couchette to Hamburg, and 60€ for the ferry to and train through Denmark, which is not covered by my rail pass.
I spent the early hours of the 28th relaxing in Bayeaux, giving the tapestry a pass and instead stocking up on provisions for my journey: a sandwich, half a baguette, a small bottle of wine, and some camembert cheese. This kept me fed clear on through to Copenhagen.
14h48 from Bayeaux to Paris St Lazare, Metro over to Paris Nord. I spent a lot of time that day waiting in railway stations. At the arrival of the night train, we sought out our beds. Mine was in a second-class cabin, which seemed weird because I'd paid a few euro extra for a first-class couchette. Upon further observation, my roommates for the evening concluded that first class means four couchette beds instead of six. This makes first class worthwhile, because in the six-bed configuration there is no room to sit up in your bed.
The train had that feel of dispassionate German efficiency. When we arrived in Hamburg, we were across the platform from the train that three of the four of us were taking on to Copenhagen. This was very cool, because we only had ten minutes between arrival and departure. Apparently, "night train to Hamburg" is a popular way to get to Copenhagen.
I dozed off on our 7h30 train from Hamburg, which was a Danish train with a fancy electronic representation of our route. I woke up and saw that we'd just pulled on to the lower deck of a ferry, crossing the water for Denmark.
I went upstairs, snapped a picture or two, and browsed around the legal gambling, tax-free booze, and overpriced restaurants. I payed my last 3€ for a Coke, no ice. I tried filling my water bottle, but beer came out instead. I asked where I could get tap water, and was told that such an odd request could be satisfied in the bathroom. I'd been skeptical, because all of the trains I'd been riding warned you not to drink the water. The lack of warnings and the presence of restaurants on the ferry re-assured me of potability.
Back on our train through Denmark, I spent some time talking to a Chinese tour guide. He explained to me that while English-speaking tours were on the decline, business from China was steadily increasing. I dozed off again and found myself in Copenhagen's Central Station.