Tuesday, 18 May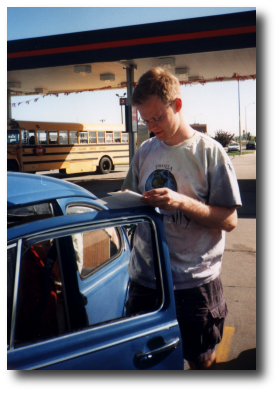 So in the wee hours did Gwen wake Dad who woke me. She hadn't heard from Desi and wanted to get back by CO as soon as possible. It was like 0430h or somesuch, and we pulled away from the small town in the early morning dewy air. As we sped towards the highway I saw a deer kick up, its white tail flying along. A little ways down the road we had breakfast, and kept driving through the day, stopping mostly at truck stops like Sapp Bros. Gwen was shopping for an Angel to replace the loaner that was riding on my dashboard. Figured anything that helps me West, including heavenly intervention, can't hurt.
Later down the road I checked on the monitor, and found that it and several other items had suffered heat damage. You know how Beetles don't have heat? Mine does! Entire canisters of deodorant had vaporized, my electric shaver had melted, blowing out some battery acid for good measure. The plastic on the front of the monitor adopted a cool Salvadore Dali affect, as Dad described it … hrmmm, well, we cleared off the passenger seat floor, moving the monitor to a position under the bonnet, and the junk food rested on a clothing box which held my cup holder well. On the road again …
Come the afternoon, we stopped at a town that claims to be Buffalo Bill Cody's home town. I remembered the gift shop from a previous trip out West. The racism tends to bother me, but then I've been going to University of Illinois, where the appropriation of Native American culture is a recurring topic of controversy. Not much farther down the road it was time to part company. Dad and Gwen rode their interstate into Colorado and I continued down 80.
Later that evening, I stopped in Chappell, Nebraska. After getting gas, Lucy stalled down the street, and wouldn't start again. I walked over to a Bar and Grill that was decorated with cattle brands and had a generous taco / tortilla combo plate and a Coke. Back to Lucy, the rest did her no good. It was too late for a mechanic, and I took the sleeping bag and tent over to a nearby campground, which was unmanned.
Later in the night I shifted in my sleep, and found the sleeping bag zipper was broken, splitting down the seams. It started getting colder, and colder, I became uncomfortable. I took a walk back to town, stopped in a bar and inquired about a nearby hotel. Got directions, down the street about five blocks, never found it. Ended up sleeping in the car, this time curled up with the windows shut.
Wednesday, 19 May
I awoke the next morning, and there were two mechanic's shops within a block and a half. Neither were yet open. I retrieved my tent, and they were still closed. I hunkered down with Lucy as I had the evening before, and for lack of inspiration of what I could do, did a valve job. It was, after all, morning. Well wouldn't ya know it but she started? Back on down the road!
I puttered along, Lucy less than entirely happy and me suspecting I might have bunged something with the valves. Got out of Nebraska and stopped for gas in Wyoming, with my eye out for a mechanic. No mechanic where I stopped, so I figured I'd stop further down the road. Lucy stopped a few hundred feet from the gas station, and called a tow truck.
Got towed to one place that wouldn't handle Volkswagens, and then we ended up, with no additional mileage, at Collins Automotive, a shop that specializes in older vehicles. We were greeted by a surly old guy with s short white beard, who said I couldn't work on the vehicle on his property, if only because they believed that at their shop, it was their quality work. He said also that they normally did appointment work, and could maybe get to me tomorrow. I rode on up to the Holiday Inn on my bike and splurged the $75 to stay there that night. My idea was that he was the prototypical grumpy old sysadmin type of personality, and that by acting meek and staying out of his way, his curiosity would take over, and he'd get to my car a lot earlier than he'd let on.
Like I said, I splurged on the Holiday Inn. Unfortunately their pool was closed, but I got a nice thorough shower and cable TV. Between being alone on the road, the car insisting on failing ever since parting from Dad, the frustration of the night before, the crappy progress that day, and the crochety old coot of a mechanic, and the clean, air-conditioned quiet of the Cheyenne hotel room, and the lack of anything to read, I suddenly felt horribly lonely. I came near tears, read a few passages from the Bible – bless them Gideons, and then screwed myself down, my macho side reminding me that there had been those heading West before me that faced far worse obstacles, and that there was really nothing preventing me from getting to CA on time, whether my Wagen died or not. Nothing to be too upset over really.
So I watched the latter part of that movie where Richard Gere is framed for murder in China, grateful that the very ending was not the cliche I feared it would be. Some more TV, and dozed off to sleep, snug as a bug, as it were.
Thursday, 20 May
I knew those guys would tackle the car, so I headed downstairs, ate a liesurely, if expensive breakfast, and headed back to the mechanics.
Car was good. The bill was impressively modest. Timing had been way off.
Took off down the road, Lucy purring away. Slowed down for the construction that is ever-present throughout Nebraska and Wyoming, then sped up again, speed climbing and … dead.
Dead?
Yeah, dead.
Walked a few hundred feet back to the construction site, found a manager with a cell phone, called the shop, got some advice, walked back.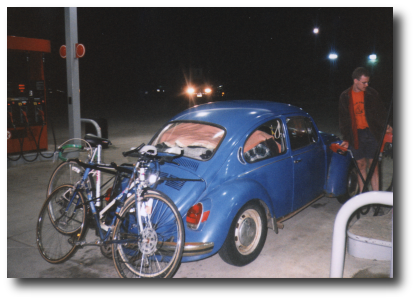 Advice no help. Walked back to the construction. The guy with the phone was gone, but another guy in a little car with a cracked windshield gave me a ride back to the repair shop. I offered him a few bucks, as he said he'd been inquiring about a badly-needed job with the road crew, he declined. The grumpy old man of the day before was far more hospitable this time, and when his coworker, Bill, another old guy with a short-cropped white beard and kindly demeanor, who reminded me an awful lot of Uncle Bill McConeghey, returned from lunch he drove out to Lucy in his pickup truck. I'd only made it a few miles down 80. He couldn't get her started either, and so I rode in Lucy behind a tow strap back to the shop. Not an easy thing, but by riding the brakes I got the hang of it.
Where yesterday I'd gotten a single grouchy old man, today I got a pit crew swarming around Lucy. The two older guys and another in his forties named Bob, they puzzled over why she didn't start – she had gas and spark. A little exploratory surgery, and the coil was found questionable, and the points and condenser were bad. A coil from an old BMW parts car, and other quick replacements later, tightening down the distributor, and Lucy was happy. After extensive test-driving, I managed to finally get her to start dying again. A little adjust to the carb idle on Bill's part and she was golden. More test driving and we took off down the road.
And things were good.
And I drove.
And I drove.
Near midnite, I was nearing Utah. Not long later I suddenly lost power, as if I had lost a cylinder. DAMMIT! I got into a truck stop and decided to nap until the morning when I'd do a valve adjustment.