Link: https://dannyman.toldme.com/2018/04/11/on-dockless-electric-scooters-i-had-the-last-word/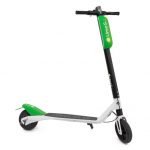 On the drive in this morning, I caught Forum's program on the new dockless electric scooters that have been showing up in San Francisco. This service is a new take on dockless bike share. There is concern that users are riding on sidewalks, menacing pedestrians, and that despite state laws, they aren't wearing helmets. Also, the scooters are often left blocking up the sidewalks.
The scooter proponent answered that since the scooters are a handy way to save car trips, San Francisco can continue its efforts to convert car lanes to bike lanes, where the scooters could safely scoot apart from pedestrians. That sounds great to me. The helmets, though … as I pulled up to the office, I emailed in a brief opinion. I then hung back from going into the office for a couple of minutes to catch the very end of the show. I'm glad I did. Michael Krazny closed with this:
We'll leave it there! Well, except for one more comment about helmets that I want to read here, from Daniel, who says: "We should revisit the helmet requirement. Helmet use is a cultural convention. For example, they don't wear helmets in Amsterdam or Copenhagen, which makes bicycling even easier in those places. It is safer to wear a helmet when riding in a car, yet we wouldn't expect anyone to wear a helmet as a requirement to ride in a car."
I think it would be nice to see these scooters in Peninsula suburbs, where we tend to lack good "last mile" transit options, and where there are fewer pedestrians to upset. Rental electric scooters sound like a better option than rental bikes in a lot of cases because they're cheap to deploy, require less knowledge to ride, and require less storage space. And I suspect that the helmet requirement is probably unworkable.