16 March, 2000
---
110%
So, you haven't heard much of me lately eh? The ol' finger healed some, took the stitches out, and eventually pulled off a layer of skin, exposing raw happiness underneath. That raw happiness matured in to a callous. Builds character you know.
A girl kissed me, then freaked out about it. Too bad, because that one seemed potentially neat. Oh well, we're all screwy in the brain sometimes. But lost potential and lost friendship irk me.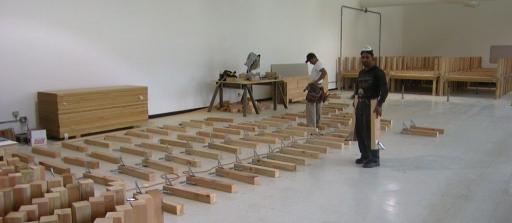 What has occupied most of my life, dominated it, is work. Not just being busy at work, but working all the time. Even when I went home to sleep, I'd restlessly revise plans, and sometimes even dream of what I was doing. That gets a little disturbing sometimes, but hey.
The occasion for all this work is that Tellme moved to a new office this weekend. The month leading up to that I started planning for and rebuilding our IS infrastructure, making things more bullet-proof, fault tolerant. All I've got left now for that original plan are backups, LDAP, and virus-scanning email routers. The rest is mop-up, support, documentation.
Next week we're finally getting a couple of guys in to help me in what I do. I have a deposit down, and I should sign the lease for the apartment that is supposed to be available for me on Sunday. On Monday, mom and grandma come to town, and I'm planning to spend plenty of time away from work, with them. Not that I can blow stuff off entirely, but I can relax.
It has occurred to me ... I've never put in 110% for school, or for the Army. Tellme got it though. Why? On one bathroom trip I answered myself that the work was sufficiently challenging and the goal was attainable but not assured. I had ego resting on this. It helps also though that I like the folks I'm working for, and they recognise a good show when they see one. I struggled in to the Wednesday all-hands and at some point there was a round of applause for Karen and Warren and myself. That felt nice.
And now I'm resting more and being more helpful to my users. When time gets short a SysAdmin has to keep his user's expectations low, and I was one crochety bastard - even more than usual.
But damned if I care that the new printer, aptly named "treekiller" is mysteriously printing banner pages we don't want. These aren't quite gravy times in the IS department just yet.
The New Pad
Did I say I was moving? Well, yes I am! Since Tellme was moving I decided to look around for a new place. A time-consuming task, to be sure. One day I checked out the Villa Mariposa apartments, next door to Tellme. Kinda pricey, kinda yuppy, just not my speed, and the apartments they had had available earlier that day had all been taken. Doh!
But some quick thinking on the part of the lady that I was talking to and I was shuffled down the street by a mile to their sister complex. A mile away from work!? Well ... I could take a look ...
... and you know? Not bad ... they had a few different places coming available mid-March. Two-bedroom, to be sure, but well ...
So I walked around the complex, just checking it out, one apartment ... another ... I got to #193 on the extreme edge of the complex, just down an embankment where cars where rushing by on Dana, and right next to a bridge that goes by a pedestrian/bike trail, along a creek up to Shoreline Park. Lots of grassy area under some power lines, and across the Dana underpass another big park next to a school. It allows pets, with a hefty deposit, and it is right next to Cal-Train.
And $1750 is pretty decent for a two-bedroom "luxury" apartment in Mountain View, and it is being remodeled prior to my tenancy, available 19 March with Mom and Grandma coming in on the 20th ...
... so of course I made a deposit. There will be women jogging past my patio door, and I can bike to work, possibly taking the long way up to Shoreline Park and back down again. It will be nice, and I'll have parents around to advise me on furniture purchases and cutlery and kitchen wares. After that I can look for a cool roommate, as $1750 is more than half my take-home pay. I do save money on not buying a new car, and I get many a free meal off of Tellme, so it is not as terrible as it sounds, especially when we consider that I will have a much better understanding of what kind of money a dannyman like me can make around here at my one-year review in May.
I've been here nearly a year? No shit ...
---
17 February << 2000 >> 9 April
Journal
H O M E
---
This document last modified Wednesday, 19-Nov-2003 23:24:54 UTC <dannyman@dannyland.org>