9 April, 2000
---
Sushi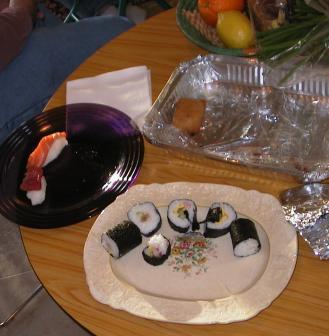 Yesterday, Chiawen and his family brought sushi over. Then his daughter, Rachel, made sushi, Mike Epstein made sushi, and I made sushi. We even found some sashimi at an asian market on Castro Street. I like sashimi. Sashimi is the raw fish you can make some sushi out of. You roll some sushi rice in the palm of your hand, stick a dab of wasabe on a suitably-cut slice o' fish, and put the fish, wasabe side down, on the rice. Dip the rice in wasabe-soy sauce, and you've got some tasty tasty eats. Mmmm, I like sashimi.
And now that I know that sushi is actually not very hard to make, I can make more any time! Maybe I will want to invest in a rice cooker though, if I get carried away.
I threw the Sushi party as a sort of housewarming. I moved to my new place, see? I called it a Sushi Potluck, for some naysayers were giving me grief that a sushi party would be too expenive, or that raw fish is dangerous. Dannyman, you don't know what you're doing, do you?
Well ... it was not expensive. Not many people showed up, and those that did enjoyed themselves. I was very pleased, and it was a nice evening. To be sure, though, sashimi is not cheap, but you buy it in small amounts. I also spent some cash on additional housewares.
Sugar Magnolia
Sugar magnolia, blossoms blooming, heads all empty and I don't care,
Saw my baby down by the river, knew she'd have to come up soon for air.

Sweet blossom come on, under the willow, we can have high times if you'll abide
We can discover the wonders of nature, rolling in the rushes down by the riverside.
Another great thing that happened recently was Mom and Grandma came to town! We rode together up over the mountains and along scenic Highway 1 past Golden Gate Park, over the bridge and down in to Muir Woods to see some redwoods. After that we came back to the city and after driving down Lombard Street (That was fun!) we accidentally wound up at Coit Tower, which we checked out, and then over to some fancy Italian Restaurant for dinner.
On the weekend we drove to Alameda and hit garage sales and thrift shops, with the goal of furnishing the house some. I have a second-hand oriental carpet laid out on the floor, little kitty salt shakers, and an awesome pair of round folding tables that stow oh so nicely, not to mention that they and my extendible coffee table all fit together with Grandma in the back of the Volvo, with boxes of other goodies and the rug.
It was nice to see the folks. I bet Jessy would really enjoy San Francisco. At any rate, I have a feeling that I'll skip out on Easter and visit Chicago in August. Mom ought to have a big birthday party this year, and since everyone has their birthdays (well, Mom, Grandma, and Uncle John) about the same time, that is at least as festive. It is a little too bad I still had to make a few appearances at work that week, but such is the pace of life. On Sunday I bought a TV but the reception was sufficiently poor that I could not watch the Simpsons. That's okay, I get three PBS stations, and can swap out poor Fox scheduling with Robot Wars and Doctor Who on KTEH.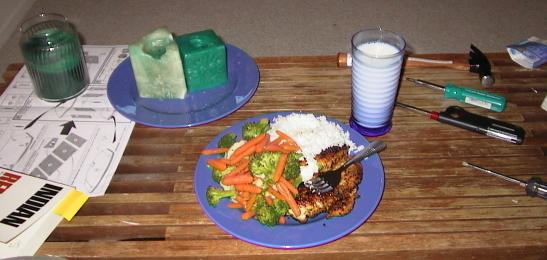 Another thing that always gets me thinking when I visit Joyce and Harlyn in Alameda is the model railroading thing. I have enough spare space in my room that I could build a modest N scale layout, should I so choose. I'm trying to spend more free time these days. Today I biked up to Shoreline Park, explored around a bit, had a minor spill, and a late lunch. I have a TV and books to read, and I'm trying out different foods I can make in my kitchen. I try to have a little breakfast every morning before I head for work, have a basket with fresh fruit .... I've found breakfast before work can put me off the junk food that Tellme is saturdated with for a good few hours. Anyway, the idea is to balance an intense work life with a pleasing liesure life. Throw some Yin in with that Yang. Model Railroading? Might be an appropriate spice.
Tellme's new office is right on the railroad tracks. Caltrain goes rushing by several times a day. It is great stuff. One idea I had thought was neat would be to make a scale model of the Tellme offices, and rig it up so that Caltrains could run back and forth on the adjacent mainline and certain times. Maybe even hook a camera and controls to the web.
But that's getting silly.
---
16 March << 2000 >> 17 April
Journal
H O M E
---
This document last modified Wednesday, 19-Nov-2003 23:24:54 UTC <dannyman@dannyland.org>