Link: https://dannyman.toldme.com/2019/03/11/planning-commissioners-academy-long-beach/
Wednesday
We have young children, which makes travel expensive and cumbersome. I traveled alone, arranging my flights in order to minimize disruption to the family routine. Thus, instead of flying through Long Beach airport, I went through LAX, on Southwest, because the flights worked out to allow me to participate in morning drop-off and return to San Jose to be picked up just after the baby finished Daycare.
The conference was held at the Queen Mary, which is a classy 1930s era cruise ship now moored permanently at the Port of Long Beach. Lyft gave me a discount on a direct ride to the Queen Mary, compared to a shared ride, so I took it. The driver was a Kenyan, who told me that the countries of East Africa were making steady progress towards open borders and economic union. He explained that the Chinese were building a network of passenger railroads in the region. He was in town for a while to help his brother with some personal affairs, and in the meantime he was able to make some money driving for Lyft. The car, he explained, was rented through Hertz or somesuch, who had arrangements for Lyft drivers. He said the rate wasn't great, but it suited his needs better than buying his own car.
I arrived in time to catch the opening afternoon session. Jason Roberts, an IT Guy living in Houston, shared stories of his unorthodox methods of community improvement. He is an inspiring guy and these are some notes I scribbled down:
"There's no such thing as bad weather, just bad clothing."

–Scandinavian Proverb
A typical response to folks who want to promote outdoor activities is that the idea might work better in some other city with a more agreeable climate . . . but "not here." For example, in Houston, it is really hot. So, he cited the above proverb and then shared pictures where people manage to enjoy the outdoors in all kinds of weather, including New Orleans, which I guess might be hotter than Houston. As a man who recently discovered the miracle of Rain Pants and how they can make a bicycle commute decently comfortable in the rain, I agree.
He arranged to get the kids in the local school punch cards: each day they rode their bike to school, they got another hole punched in their card. He didn't mention any rewards for filling out a card, but he said this simple program got a lot of kids riding to school.
He detailed several instances where instead of waiting on the city to conduct a traffic study, &c. to put in a crosswalk or a bike lane, folks in the community would build their own such infrastructure. White duct tape is an excellent stand-in for white thermoplastic. They did some illegal street narrowing and then hosted a festival, making sure to invite the mayor.
"Break every law possible; document it; invite the mayor"
"Wear an orange vest."
I can vouch for this. When I encounter vehicles obstructing the bike lane, I place a flyer under the windshield, hand a flyer to the driver, and if there's been a lot of violations that day, I tweet a note to the local police. On more than one occasion, folks have come back to their cars in a panic, assuming the man in the bright yellow jacket slipping a paper under the windshield is a cop.
betterblock.org details his efforts and ideas, and wikiblock is a resource for 3D printed furniture, which can be used to provide street furnishings on the quick and inexpensive. His topline advice:
1) Show up at every community/organization meeting. Meet the folks who are out for civic improvement.
2) Give your idea a name, a logo, and a web site.
3) Set a Specific Date in the Near Future: say there's a meeting in 2-3 weeks and the objective is to build something within 2-3 months. Having a deadline forces action.
I next attended a session on the Nuts and Bolts of Planning. I noted that California Cities are required by the state to have a General Plan for the next 20-30 years and that the General Plan is composed of various Elements, like the Housing Element, which are each revised every several years. Then there are more specific Specific Plans and zoning standards . . .
I did appreciate learning that "Euclidian Zoning," where zoning is separated by use (Residential vs. Commercial, &c.) was not, in fact, a reference to Geometry, but a reference to a court case where one of the parties was named Euclid. An alternative to Euclidian zoning is to define the allowable form of buildings without prescribing their use.
I sought a late lunch. Dining options are limited on and near the Queen Mary. I finally settled on an overpriced cheeseburger, which was dry, and had an egg that had been thoroughly fried, so the yolk did not run. This was sad. After this I drifted back to the conference, hearing a bit about the basics of CEQA, the California Environmental Quality Act.
Finally, on my third attempt at check-in, the staff of the Queen Mary agreed that my room was at last available, but first they had to hammer away on the computer for several minutes and take my keys in the back. It wasn't personal: the place was filled up and everyone's check-in was an exercise in patience. I suspect the place is run by folks who are more excited at the prospect of managing a historical ship than they are with efficient hotel logistics, or the correct preparation of overpriced cheeseburgers.
The room was spacious, by the standards of a contemporary American hotel built near the freeway, and especially in comparison to my limited cruise ship experience. Not all of the ship is in use as a hotel, and I assume they took the higher-class rooms for this purpose. On a modern cruise ship, a patio seems standard fare, but in the 1930s all you got was a porthole. Because all of the room lights are on a single switch, I used the porthole as a night light. I was charmed by the vintage desk that folded flat against the wall.
I considered skipping dinner, by subsisting on some dry chicken skewers, vegetables, and cheese from the networking event. The wife suggested I find a way to town and I found that there is a free bus that departs every fifteen minutes. I hiked up Pine Street a ways, past the light rail that was closed for reconstruction. I found an inexpensive but tasty Indian kebab place which seemed a good choice because last time I was alone roaming the streets of a foreign city at night after a conference, I was in Dublin, where they were also building light rail, and where I also ended up eating inexpensive Indian food.
The return bus was delayed, so I signed up for the Razor scooter service. The app made sure I was wearing a helmet, as everyone who rides a rental scooter always does. I felt a little shaky at first but got the hang of it, and before long I was back at the Queen Mary for under $5. The app warned me that I shouldn't park in forbidden zones: apparently, the area around the Queen Mary is forbidden, but if you park next to the ship you're okay. Other scooter services do not have this restriction.
The Razor scooter was the nicest I tried during my trip: the deck is wider, and the tires are fatter than the competition. My only grouse is that the handles are lower than is comfortable for a tall guy like me.
Upon returning to my room, I opened the door and heard a young boy sigh or mumble. This was most likely one of the ghosts who reside upon the Queen Mary. I concede that an alternate possibility is that when I opened the door, it created negative pressure in the room, and the air made a funny noise squeezing through the porthole.
Thursday
Although the walls on the ship are thin, and engines no longer muffle the neighbors who inhabit the ship's various astral planes, I slept well. Throughout the morning, my brain adjusted to the idea of inhabiting a cruise ship while not feeling the movement of the sea.
Breakfast was rich in protein, and I chatted with a Planning Commissioner from Solvang. He explained that they were working to fix up the business district, which I have heard is a Swedish-themed tourist town. He hoped they could get an Apple Store since the nearest is a 40-minute drive. An Apple Store strikes me as an odd thing to wish for. I tried to adapt my impression of a glass cube to Old-Timey Sweden Town. He explained that the building codes would continue to specify a particular architectural style, but some of the run-down hotels could be replaced with nicer amenities.
Later the notion of autonomous personal passenger aircraft came up. The same Planning Commissioner was excited at the idea that people would prefer to own a private plane, maybe a sporty cherry red Jetsons car that could take off from the back-yard heliport, take them directly to work, then return home to park. Someone suggested the FAA might be slow to embrace this vision. Another suggested that folks might be happy to trade off the safety implications for the incredible convenience. I shared a criticism I have seen of the Boring Company, which so far hasn't seemed to account for safety. In the hyper tunnel, a wheel may come flying off someone's private car. The vehicles behind would have to break at eight times the force of gravity. The result could well be a Lithium Fire in a tunnel which has no emergency access, that kills a few hundred people, and burns for a week or two. People might accept that as the price for convenience, even if a government regulator might find the idea to be insane.
The morning session covered the legal powers and obligations of Planning Commissioners. The big idea to understand is that there are contexts where Planning Commissioners help to set policy, but that much of the time, Planning Commissioners are tasked with reviewing projects and applications within the context of the policies. You may not like what you see, but the job isn't to approve of things based on personal opinion, but because the plans comply with policies.
There was also a fair amount of the Brown Act, which is always a concern for any public official in California. We touched again on avoiding closed meetings, where a quorum of a public body ends up discussing an issue outside of a public meeting. The bottom line is to make the decision-making process open to the public at large, to disclose any meetings, typically with an applicant, that have taken place, to provide a fair process, and not to demonstrate bias in decision-making.
The next session was the relationship between the Planning Commission, City Council, and city staff. The City Council decides what policy should be, and the staff determines how to achieve that policy. The Planning Commission serves in between, giving advice on policy to the City Council, and deciding whether applications which the city staff have worked on comply with the policy.
Next, I attended a panel discussion on Building Density.
If you have a single family neighborhood, of one and two-story homes, an apartment complex at 4x the density doesn't mean four to eight-story buildings. An apartment building fits units closer together than single-story homes, and the units are usually smaller than comparable single-family homes. Scott Lee, from Livermore, showed a housing complex developed there at a higher density, that ran two and a half stories, with the height stepping down further towards the neighborhood. The development was an example that we see in Sunnyvale sometimes, where the middle of the building is a parking garage, and then the housing units are built around the garage so that, from the street, all you see is housing. He called that style a "Texas wrap."
Peter Noonan, of West Hollywood, then dove deep into the economics of providing higher density housing to accommodate mixed incomes. My notes may not be accurate here, but West Hollywood has been pretty successful at rent stabilization, and they require new development to provide 20% of units to be affordable to families at 80% of the Area Median Income. (Many jurisdictions have had some success at providing housing at the market rate, and for the poorest residents, while missing targets for middle income.) He explained that their inclusive housing requirement triggers State Density Bonuses that permit developers to build additional units, which means that West Hollywood's Inclusionary Housing Requirement ends up forcing developers to build more market-rate units than they would otherwise.
He then went on to illustrate how building denser developments brings down the per-unit cost of building new housing, which is critical to our ability to meet the housing needs of California's residents.
Lunch was good. The salads came wrapped in a shaved cucumber. The chicken was somewhat dry but came with a sauce. The dessert was a form of Black Forest Cake, of which, thanks to a couple of Folsom Planning Commissioners, I had three servings. I chatted with a Yuba City Planning Commissioner. They are housing refugees from Paradise, and she shared word of another town that is housing refugees, that has sought a share of Paradise's Property Tax revenue, in order to pay for the increased city services from housing Paradise residents. Our mutual feeling was sympathy towards the plight of a town that needs to cover unavoidable new expenses, but less sympathy for the strategy of trying to shake down a town that is in crisis.
There was a Survival Guide for using Twitter and Social Media. As my city's resident Tech Savvy, Scooter-Renting, Millenial-by-Proxy Planning Commissioner, I went ahead and tweeted my notes. Here is the thread:
So, what has two thumbs and likes to geek out on the methodology of studying the Environmental Impact assessment on traffic flow? This guy!
Let's talk internal combustion. When a vehicle is moving along at a steady rate, the engine helps to keep the wheels turning, and a relatively modest amount of energy to maintain speed. When a vehicle stops, the engine has to burn more energy than when it is cruising, because the wheels aren't helping the engine move. Thus, if you want to maintain air quality, you need to design streets to keep cars moving. Therefore, the traditional approach to measuring the Environmental Impact of traffic is a metric called "Level of Service" (LOS) which measures the delay imposed on traffic by different types of development. As development increases, you can mitigate negative impacts on Level of Service by adding more lanes of traffic. Once you run out of room for building roads, any further development incurs a negative impact on LOS that cannot be mitigated.
What could possibly go wrong with this approach?
LOS is a recipe for sprawl. Adding a new greenfield development on an underutilized country road has no negative environmental impact as measured by LOS. Building denser in town where there is no room to add more lanes means the project's Environmental Impact is Significant and Unavoidable.
Over time, the LOS approach becomes self-defeating. To keep traffic moving, we need to limit the density of development, which means people have to drive further and further to avoid getting stuck in traffic, so they spend more time stuck in traffic.
Because the right-of-way of the roads is built out to support only motorized vehicles, the population density is too low to support mass transit, and the commutes are long, the population loses opportunities for Active Transportation, and the death rates from sedentary lifestyles increase. (Note: in my experience, an e-bike can help make longer-distance commute through The Sprawl more possible, if you can find a sufficiently safe route.)
California has mandated a switch to evaluate Environmental Impact by measuring Vehicle Miles Travelled (VMT) which is cheaper to figure out. First off, if a project is near public transit, the VMT impact is "less than significant" because folks can take the bus. Overall, if a project is going to shorten or reduce trips, it has a favorable Environmental Impact. A greenfield development outside of town where folks are going to have to drive everywhere for jobs and services is going to have a negative evaluation in terms of VMT.
As our development shifts to VMT evaluation, we should be able to save money on road infrastructure, shorten commutes, and improve health by reducing automobile collisions and making Active Transportation a more practical option.
Next, we learned to Make Findings that Stand Legal Challenge. This can be summed up as "show your work" and when making findings, cite policies and explain how a project complies or does not comply.
That was too easy. How about a session on City Finances? I think this session might have gone down better with a beer, but Michael Coleman dove right in.
Thanks to Prop 13, Property Taxes are fixed at 1% of assessed value, and can not increase faster than the Consumer Price Index. The assessed value is reset to market value only when the property is sold. This is why one neighbor's property tax might be $300, while the young family next door owes $20,000. Also, California has to offset its inability to fund government through Property Tax with high Sales Tax and Income Tax.
Prop 13 also provides an incentive to cities to approve new development, since new development pays property taxes at a contemporary rate, and also contributes substantial fees to cover infrastructure and services.
He also explained that the long-term decline in Sales Tax revenue has less to do with e-commerce and more to do with a broader cultural trend of spending money on services instead of goods. Sales Tax applies only to tangible goods, and not to services. So, there you go.
Then, he dropped a truth bomb on those of us who favor higher-density residential development. On the one hand, higher-density developments bring in more revenue than lower-density properties. But, the costs of providing residential services to the larger population can incur an overall budget deficit. The tax revenue from a family in an apartment comes out to less than a family living in a single-family house, but both families need the same city services.
This isn't to say that we shouldn't build higher-density housing, but we need to be mindful of the impact on City Finances and balance development with other, more profitable development. (I love "Mixed Use" residential-over-retail, myself.) In the longer term, I like to think that California's approach to funding government will evolve to the needs of higher density living.
Then there was an explanation of how the lack of a Vehicle License Fee replacement means that annexation and incorporation of cities in California are no longer fiscally viable. Without risking anyone's sanity trying to explain it, I think it is enough to understand that that problem exists, and that you should support AB 2268.
I think that is a Dodo Bird …

First, they re-arranged the finances.

Then there was a gap.

They sort of fixed the gap.

Then they un-fixed the gap.

The gap sucks, so support AB 2268.
After trying to understand the implications of the VLF backfill on incorporation and annexation, I decided to take the free bus and a rented scooter over to the Yard House and have a beer, and a cheeseburger with several fellow Planning Commissioners. We had a chance to talk about each other as people instead of the vagaries of government policy. The cheeseburger was juicy and delicious, and I took that as representative of how much better Thursday had gone than Wednesday.
Friday
The conference breakfast was a slight improvement on the day before, featuring home fries instead of hash browns, and granola-yogurt cups in addition to the eggs-sausage-bacon-pastries spread. I ate two servings at breakfast, the second one to serve as lunch. They tried to do a Q&A during the breakfast, which didn't go so well because breakfast is also an excellent time to chat with people at the table. Much of the discussion at the table centered around how the Q&A wasn't working well, and that this year's conference had more challenge to it than previous years, because they had fewer rooms available for sessions, because they had had to move hotels at the last minute because the original hotel had construction going on.
Then it was time to go downstairs for the legislative update. We braced ourselves, as the California legislature has 2,700 bills to consider this year. That sounds like a lot, and Jason Rhine, of the League of California Cities, reassured us that this is indeed a lot for a non-election year. 200 bills focus on Housing and Land Use, and another 500 bills are placeholder "spot bills" which will be filled in by their sponsors as the process rolls along.
There was mention of the CASA Compact, which is a policy collaboration in the Bay Area, but most of its suggestions apply to the state in general. (CASA is a whole topic unto itself.) Here are various incomplete notes that I took:
AB 275 is looking to limit new developments to not more than 20% single-family homes.
AB 1279 seeks to identify "high resource" communities, with good schools, plentiful jobs, and mostly single-family homes, and in those communities grant developers "by right" approval for affordable housing projects of up to 100 housing units up to 55 feet in height. This would help bring lower-income folks into more upscale and exclusive towns.
SB 4 would allow up to four-plexes on empty lots near transit, and an additional story of height.
SB 50 is Scott Weiner's bill. Last year he introduced the controversial SB 827 which did not make it out of committee. This is the sequel to that bill, which would up-zone around transit, put limits on Single Family zoning, increase density based on form, which I understand as "you can build the building to the size allowed in the zoning code, and house as many families as you please, so a 6-bedroom McMansion could just as well be a three-plex." SB 50 would limit or eliminate parking requirements, and introduce additional Density Bonuses.
Jason Rhine noted that this year, Scott Weiner chairs the committee, so SB 50 would likely make it to a floor vote, and Democrats are generally reluctant to shoot down their colleagues in the same house. Upon arrival in the Assembly, some negotiation could take place. Most of the bills in process are consistent with Governor Newsom's ambitious goals for housing production, so he's likely to sign them.
SB 330 would declare the state to be in a Housing Crisis until 2030. During this period, there could be no downzoning, no (new?) parking requirements, no increases to impact fees, no (new?) fees for affordable housing, no housing moratoria, no new design standards that increase construction expense, and no limit on the number of conditional use permits. The gist of this being that for the coming decade, we will make it somewhat easier to build.
AB 11 would bring back the Redevelopment Agencies that were axed during the Financial Crisis.
SB 5 would allocate up to $2 billion for redevelopment.
ACA 1 would be a ballot measure to reduce the threshold for bonds for affordable housing and infrastructure to 55%.
SB 128 would reduce the threshold for EIFD bonds to 55%. (Enhanced Infrastructure Financing Districts . . . wonky enough for ya?)
AB 68 and 69 would repeal the minimum lot size requirements for folks who want to build an ADU. (Sunnyvale has a minimum lot size of 6,000 square feet, so my lot is 300 square feet shy of being allowed an ADU.)
AB 36 is a "spot bill" for "tenant protections" and may be the vehicle for enacting some form of statewide Rent Control this year. This would probably be more permissive than traditional local rent control ordinances and focus mainly on limiting the year-over-year increases that can so easily force long-time tenants from their homes on short notice.
AB 1110 would increase the notice period for rent increases. (You get more time to prepare to pay more rent or move.)
AB 1483 would require cities to post all of their fees on their web site.
AB 1484 would not allow a city to charge a fee not posted on their web site.
AB 891 would require cities over 330,000 population to provide Safe Parking areas for people sleeping in vehicles by 2022.
The last session of the conference was on Land Use and Emergency Preparedness in our new age of increasing disasters. I made a note that 30% of California housing stock is at the Urban Interface Area and that this area is seeing 40% of the growth of housing stock. I then noted "emergency preparedness is YIMBY" as I think it was Eric Nickel, Santa Barbara's new Fire Chief, who was explaining that folks concerned with fire safety would prefer transit-oriented development in town over sprawl.
As my town is not in the Urban Interface Area and I am already a fan of transit-oriented development, my thoughts drifted to trying out LA's transit infrastructure to get to the airport. Google was saying 2+ hours by transit compared with a 40-minute Lyft, so I left the Emergency Preparedness session to enact my own study of alternative transportation services in the LA area.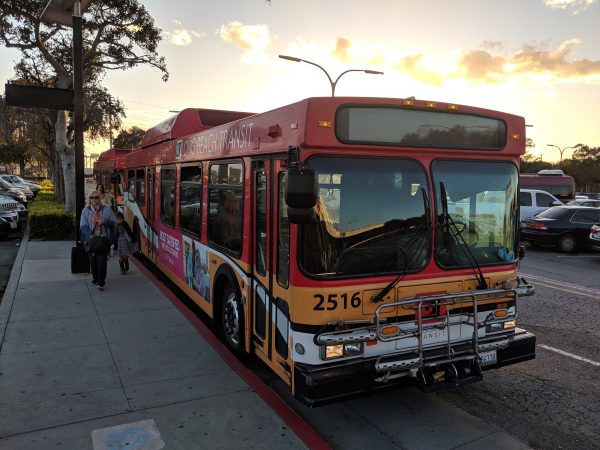 I could have taken the free bus, but I thought I should try a non-Razor scooter. There was a Lime nearby, but some hipster snatched it up before I could get to it. Then I saw a Bird. I signed up, deposited $10, and took off. I made it a couple blocks and just started up the overpass over the water to the main part of Long Beach when the scooter slowed to a crawl and stopped entirely. I laughed at the thought that it lacked the power to bring me up the hill, but the app reported that in the space of two blocks the battery had gone from 20% to empty. I had killed the Bird.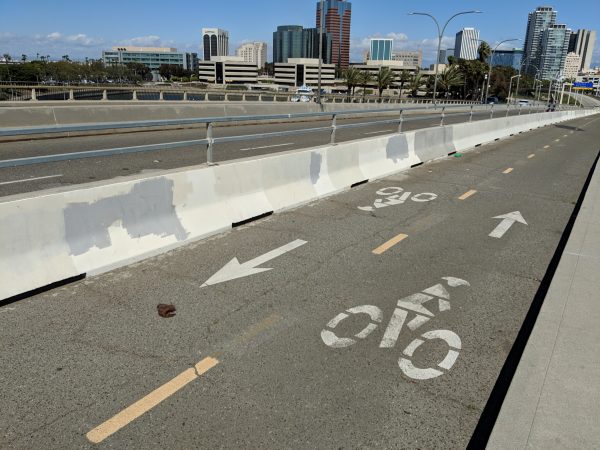 I walked up over the bridge, probably faster than any scooter could get me uphill, and picked up a Lime scooter on the other side. I really appreciated the height of the handlebars! I took it a block or two, and the ride seemed to get bumpier and bumpier. The wheels were either too small or damaged. The ride was awful, so I ditched my tall boy at a rack of Razor scooters, and rode a wide, thick-tired Razor the rest of the way to the bus stop. There was one block with a steep uphill, and the Razor managed to drag me up that hill. Near the end, it had slowed to such a crawl that a tortoise passed me up, with a comment on the side about my lazy character. I couldn't help but grin at my own absurdity.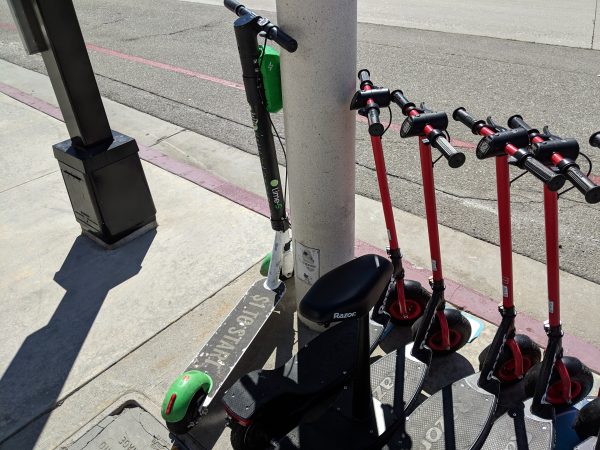 Ordinarily, a transit ride from the Queen Mary to LAX is a reasonably straightforward shuttle bus to train to train to shuttle bus. Unfortunately, the Blue Line that runs to Long Beach is shut down for repairs. In its place, I took a free bus, which very slowly made it to the stops served by the Blue Line. The trip counted as scenic if you're the sort who appreciates a look at lower-income residential and industrial neighborhoods adjacent to freeways. After Martin Luther King hospital we passed a Denny's, and I got off at the Rosa Parks Metro stop. I didn't see any ticket machines, so I followed everyone else through the open fare gate and past the sign that said we needed Proof of Payment.
I caught a Green Line train toward the airport. It was the most overtly drab utilitarian train I can remember riding. It felt like Ronald Reagan had tried to describe Socialism and the designers built to his specification. I appreciated the huge windows, which afforded an excellent view of the highway, as we zipped efficiently along to the Airport stop, where we all went down to wait for the bus.
There was nowhere to buy a bus ticket, and no fare posted, just that you needed to have proof of payment for the Green Line. Of course, since it is an airport shuttle bus, everyone got on and off at both doors, and nobody bothered about proof of payment. The end result is that had I not bothered with the scooters, my trip from the Queen Mary would have cost me nothing, aside from the risk of a fine. (For what it is worth, I also experimented with an alternate bus along the way, and so paid $2 of the $1.75 standard Metro fare, so my conscience is clean on that account.)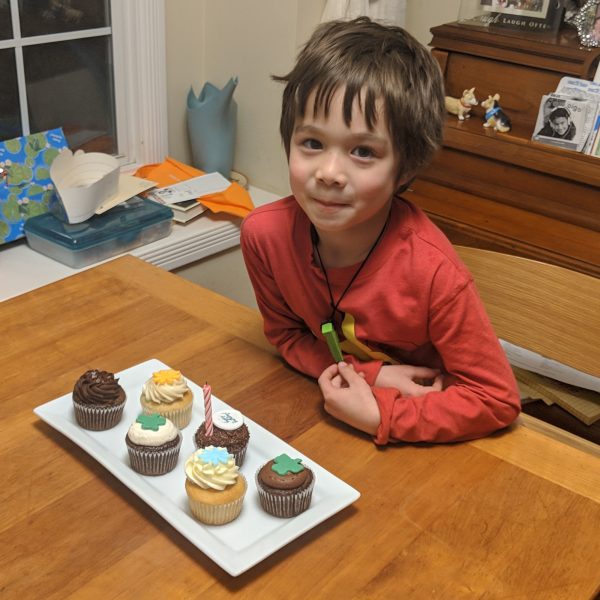 The flight home was delayed a bit, but my family picked me up at the airport, and we had Birthday Cupcakes when we got home.