Wednesday, September 1
This morning I skipped the bicycle ride to work, figuring that inhaling auto exhaust is less advisable on a "Spare the Air" day. Then I got double-whammied by the VTA at Evelyn station, where I arrived just-in-time to have caught a train on the platform, except I had to buy a ticket first. And of course, once the train was gone my $5 bill slid right in and required none of the usual massaging and unfolding-of-the-corners.
So, I caught another train one stop out to Mountain View: the end of the line. Since it is one track at Evelyn, any train waiting to start its run from Mountain View has to wait. And wait it did, until we pulled up to the platform. The train I wanted to be on slid back toward Evelyn before my train could even open its doors. So, I waited another several minutes to leave Mountain View, but I got to pass the time reading, which I can't do on the bicycle, so I'm not going to complain much.
When I got back from lunch I learned that the market had rallied, and my limit order to sell TSLA at $20.45 had finally executed. It actually peaked ten cents higher and then closed at $20.45. This is the second time I had rode Tesla's fluctuations successfully and now that I'm no longer on the East Coast and the market starts its day before I wake up, I figured I'd cash out of this fancy-pants chicanery and buy DIA. But I placed a limit buy at $100, which is where it has been lately. "Name your price!"
Thursday, September 2
"The simple view is that medicine exists to fight death and disease, and that is, of course, its most basic task. Death is the enemy. But the enemy has superior forces. Eventually, it wins. And, in a war that you cannot win, you don't want a general who fights to the point of total annihilation. You don't want Custer. You want Robert E. Lee, someone who knew how to fight for territory when he could and how to surrender when he couldn't, someone who understood that the damage is greatest if all you do is fight to the bitter end."

–Atul Gawande
"Letting Go"
The New Yorker
August 2, 2010
Friday, September 3
Biked to work today. Ordered a tape recorder for the99ers.net and pulled an old picture from the Tellme days for the theme's header image. Dinner tomorrow with a friend who is moving back to Chicago. Sunday I'll drop Mei off at the airport so she can fly to LA for the week for her boards review course.
Monday, September 6
Not much to say.

From the Catacombs, beneath Paris.
I don't like Flickr's new interface. It used to be that if you viewed "all sizes" you could get the HTML to link to a photo. Now you have to click on a FAQ, then navigate back to the photo, and go down a different route to grab the HTML. Would it be so wrong to support the navigation habits of users who have been using the site for over half a decade? All the buttons that used to be just a click away are buried under a menu, and I sometimes have to scroll down to beneath the photo to change the title. I also miss that tags used to each be on their own line. The new interface seems like its been labotomized so that we can be filled in with a bigger photo, and more white space.
*sigh*
Okay, just wanted to let that out.
The sweetheart is away. I am copying some episodes of The IT Crowd over to play.
Tuesday, September 7
I took a different route to work today, up Stevens Creek, over to Ellis and then tracing along 237 and 101, first on quiet frontage roads and ultimately on dedicated bike trail. It was nice and had very little traffic stress compared to my Evelyn-Wolfe-Arquez-San Thomas-Tasman route. On the other hand, I end up breathing in 8 lanes of highway exhaust much of the way. Do I prefer the quick death of a vehicle collision or the slow death of lung disease? Hopefully we can repair that stuff in a few decades.
It is not that children are just smaller adults, it is that adults are larger children.
Thursday, September 9
I have an orthodontic consult this afternoon. Consequently, I am working from home today. I took my hardware VPN back in since I don't need it any more, and can free up some desk space and power drain. Alas, I had to jump through a few little hoops to get software VPN working this morning. I have been back at the office for just over a month now and my commutes to San Jose and San Bruno have all been via public transit or bicycle, with the occasional ride home from a co-worker. This little bit pleases me.
Sunday, September 12
"It occurred to him that life, which he'd treated as a pastime, and which he'd thought he could yet outdistance, had finally caught up with him. And he'd discovered, much as he'd suspected, that once life caught up with you, you could never quite shake it again. It endeavored to hobble you with greater and greater frequency. How you managed to remain upright became your style, who you were."

–David Bezmozgis
"The Train of Their Departure"
The New Yorker
August 9, 2010
Mei comes back tonight. I pick her up at the airport around midnight. After too long, I have gotten my hair cut, at a Chinese place where speaking English is sufficiently awkward that the lady skipped the usual foreplay of asking what I wanted and just got down to the business of cutting my hair. Wham, bam, thank you, ma'am!
Compared to Brooklyn, Mountain View is a sleepy, slow town, where people spend their time waiting for turn-arrows and a trip to the convenience store invariably requires one to stand patiently in line, as the lady carefully counts out exact change and labors over the implications of whether it is worthwhile to sign customers up for the club card, while I quietly wait in line, nostalgic over all the times in the past year when I had ducked in to a store, exchanged quick cash with the proprietor, and was back on my way. Club cards be damned. They have no place at a convenience store.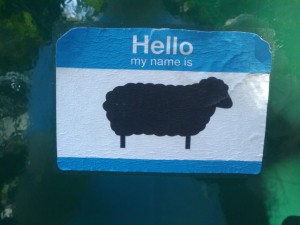 Monday, September 13
From the upcoming "Social Network" movie, via The New Yorker:
"Listen. You're going to be successful and rich. But you're going to go through life thinking that girls don't like you because you're a tech geek. And I want you to know, from the bottom of my heart, that that won't be true. It'll be because you're an asshole."
As someone surrounded by geeks, I've always known that if someone thinks I'm an asshole, it is because either I am an asshole, they are an asshole, or between us we're just confused as to who the asshole is.
Tuesday, September 14
Advice sent to a loved one:
Aaaaanyway what I'd do, if anything, is thank the lady for her good intentions, and apologize that sorry, I can't send her any money because of my discomfort over the quality of decision making made in the name of religion. It sounds like her mission is to overtly spread the idea that personal morality can not be guided by the innate human capacity to discern right from wrong, but by a confusing and contradictory corpus of Iron Age mythology mediated by a competing group of organizations which are at best patriarchal in nature and at worst openly practice terrorism and sexual violence. This approach to enriching humanity is a cause I could never support. I would explain that I would be strongly inclined to make contributions on the behalf of secular charities with morally clear missions like Habitat or MSF.

Its like, you can gently suggest that someone's belief system is foolish and deadly without having to bring up the inquisition, the IRA, or 9/11. After all, she thinks you're going to hell, so, whatever. If someone ever wants to throw down I'm sure you can get all Richard Dawkins on their ass.
Wednesday, September 15
San Bruno fire Captain Bill Forester's Engine 51 was one of the first two teams on the scene; the other big truck got hot so quickly its windshield exploded. "This looks like Armageddon," Forester recalled thinking Tuesday. "It was like they took a Saturn V rocket and tipped it upside down during blastoff."

Terrified residents were fleeing down the hill with the fireball chasing them, firefighters recalled, many already badly burned and screaming for help. There were so few ambulance trying to keep up that paramedics began asking unhurt residents to drive people with smoldering burns to nearby hospitals. Police officers and firefighters kicked down doors to rescue anyone stranded in homes.

Even with the wail of sirens filling the background of one radio call asking dispatchers to issue a third alarm, it is the rising alarm in a firefighter's voice that tells the truest story. "We've got multiple houses" on fire, he reports to the command center. "We're trying to get close. We have extreme heat. We have possibly several blocks on fire at this time."

There is silence on the radio for a moment. Grasping fully the nightmare that she can hear unfolding in an invisible chorus of voices, the dispatcher slowly replies, "Copy that."

More than 15 minutes into the disaster, a dispatcher issues a fourth alarm, summoning fire companies from all across the Bay Area to respond to "a plane crash." A firefighter asks whether it's a "large aircraft or small aircraft," but no one knows. This would affect the firefighters' initial response to the blaze because the accepted method of dealing with a plane crash is to put it out at the source in order to save passengers' lives.

Gas main fires are extinguished by shutting off a valve, and there have been reports that it took PG&E well over and hour to close this one.

"With a pipeline that big, even if you shut it off a mile away it could burn for another hour," said Kevin Conant, a battalion chief with the San Jose Fire Department who was not involved in fighting the San Bruno blaze. "I think it was completely legitimate for them to consider that there was an airplane involved because of the amount of fire they had."

First responders say the most frightening moment occurred when they tried to tap into the neighborhood fire hydrants and heard only a sucking sound . . .

Mike Rosenberg and Bruce Newman
"Tapes Reveal Frantic Scene"
San Jose Mercury News
September 15, 2010
Later, Bike Snob NYC made me laugh:
"Like coffee, religion props people up and gets them through their day, and in this sense I believe that religious institutions are like Starbucks in that there are way too many of them and they sell a lot of crap–the only difference is that at least Starbucks pays taxes and offers WiFi."
Friday, September 17
I was a little surprised to see sfcitizen whining about the physical impossibility for driving 25 MPH, so I chimed in:
Once the speed limit hits 20MPH, then your chances of a fatal pedestrian accident become extremely unlikely. There is advocacy in Britain to expand 20 MPH zones:

http://www.20splentyforus.org.uk/

If you keep light on the gas, it is entirely easy to drive slowly, and a pleasure to boot, because down in this speed range your mind can almost catch up with all that is going on around you: less stress! You just have to let go of the selfish idea that you have some God-given right to drive fast.

I just returned to the South bay from Brooklyn. I have to say, driving in Brooklyn at a constant 20-25 MPH, slaloming around double-parked cars, bicycles, and the rest, is a lot more relaxing than waiting two minutes at a left-turn light so you can tear down El Camino at 40 MPH.

Open your mind instead of the throttle. you might find you enjoy driving slow. Good luck!

-danny
Yeah, I know I'm a crackpot. And when I was younger I had a more leaden foot, but over the past decade or so my driving has mellowed a great deal, possibly because of the station wagon. When you're driving a boat it is easy enough to relax and take it easy, and I maintain that style in smaller, more nimble cars.
Thursday, September 23
So, we decided to spend Thanksgiving with Mei's folks in Hawaii and Christmas with my folks in Chicago, so I set up our Hawaii vacation for November. I have never been there myself but it should be easy to enjoy.
On Monday they opened up a long-closed bike trail up North of Moffett Field. This has been a long-awaited link in the Bay Trail project, and I am pleased because now instead of riding on streets and on a 237 frontage road I can ride up the Steven's Creek trail, then around the North side of Moffett Field, then East along the Bay Trail and then along a canal to the office. That's a bicycle commute that is over 90% off the street.
But . . . a lot of this new route is gravel. It takes more concentration to ride safely, and getting a flat on my road tires is more likely. The salt flats smell of salt, seaweed, and decay. But I'll take the occasional flat tire and maybe a gravelly wipe-out or two over being killed by a distracted SUV driver, and the wetlands scenery is a greater pleasure for the eyes and the nose than riding through high-speed suburban street traffic and waiting for red turn signals. I feel lucky.
When I rode the trail home on Monday people would smile and greet each other as they passed, because hey, we had a new toy.
The other new toy I have this week is Civilization 5. I was able to play the first half of a game last night, and so far I really enjoy it. It is a pretty huge change in a lot of ways from Civ 4. Civ 4 is more of a simulation game with lots and lots of variables thrown in to keep a player challenged. I think the developers leaned back and said "Civ 4 is great, but it is pretty dang complicated. Let's make it easier for new players." So, Civ 5 has streamlined a lot of things. The graphics are really beautiful, and the tech trees and units are pared down. Diplomacy is re-worked and the whole religion-civics thing has been consolidated into a new set of "Social Policies" which you can enact as you amass more culture.
The interface has moved from the traditional sim-manager style to more of a "builder" paradigm. For example, happiness is now an aggregate for your entire Civ instead of something managed in each city.
Aaaaaaanyway . . . . . I want to understand the military and diplomatic interfaces better, and just get a few games done and out of my system.
Friday, September 24
"I think we are making a transition, the most important in the history of Homo sapiens — more important than our long walk out of Africa and across Europe and Asia. This is our moment. Anyone who died before 1930 never lived through a doubling of the human population. Anyone born after 2050 likely won't either. We are in a 120-year transition that will require an emerging consciousness if we're going to make it through."

Wes Jackson
"Farmed Out"
The Sun, October, 2010
Monday, September 27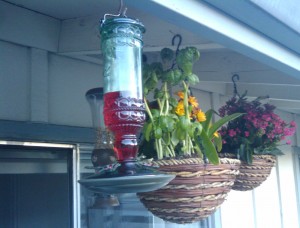 We purchased a humming bird feeder this weekend. Within about ten minutes of installation, the first little bird flitted over. They catch on quicker than the larger birds, who we can occasionally hear at the other feeder, spilling a steady trickle of seed on to the balcony.
Thursday, September 30
It is nearly noon and I am relaxing with the ever-studying Mei at my favorite coffee shop. My work hours today are going to be around 1pm-9pm, due to afternoon and evening deployment windows for software on our production networks. That's my day job. Well, today my day job is slacker, and my evening job is deployment engineer.