Cats, Sushi, Chicago, Honda Insight, and City Hall
---
I Bring You Cats, and Sushi!
Well, here I am at Mom's kitchen table with my work laptop. Nothing planned for today so maybe that means this is a great time to start writing something.
Last week I took the cats to the vet. Unfortunately, lunch had run late so as I hustled to the vet as quick as I could, taking a wrong term and stalling out the car trying to persuade a dumb driver that they had right of way because I was waiting for pedestrians, I drifted backward in to a guy's pickup truck. At first I thought he was just a prick honking at my stalled car blocking his way. As I jumped out to re-seat the battery connection he pulled up next to me and explained. "Oh sorry ... is there any damage?" He just drove off. A little station wagon bumping his truck's bumper?
But yeah, dannyman, use them breaks. I figure it is all par for the course from the last time I went to the vet.
Unfortunately, I got to the vet 20 minutes late, and had to reschedule for the next day. So I came back on Friday and the babies were treated by Dr. Dave, the grumpy old man vet. I like Doctor Dave, who doesn't see the need to bother with vaccines for diseases my cats wont be exposed to. He explained that "like a lot of new cat owners, you're feeding them too much" and that they just had way too big bellys, and they only really needed a handful twice a day for the both of them. He said soft food, kitten chow, name-brand cat food, and the serving suggestions were all designed to sell more cat food, and that the cheap stuff at Safeway will leave them just as healthy.
Good cats, I say.
Then I asked him about fleas, and he pointed to a tiny speck on the exam table and said he thinks it could be flea feces. Sharp eye. He then put some water on it, and the water around these specks turned red, and he explained that that's the blood that they eat.
Well, turns out that these days modern science has developed a wonder drug which you apply a few drops of to the nape of the neck, which kills the fleas on the cat within a day, and pretty much quarantines the environment for a month or two.
On Sunday I brought them to Joe's house where we watched TV and then went on a sushi run to the We Be Sushi in Sunnyvale. I figured if I get to enjoy Chicago cuisine for a week then I ought to treat Joe to the best that California has to offer. Much Sushi was brought back home, and at a reasonable price, though not as great as when I ate with Joe and Lorah. The sushi went down, the ice cream went down, the TV went stale, and I returned home for some Doctor Who. I pledged KTEH some cash and they'll be sending me some Red Dwarf out-takes in 6-8 weeks. And me without a VCR ... Joe dropped me at the airport early Monday morning.
East is Midwest
And I flew to Chicago on the People's Airline of Southwest. From San Jose I was in boarding group four, and from Vegas I was boarding group one. Great flight on a pair of 737s, one class called coach, with peanuts and a snack pack for lunch. The view from up top was just awesome! The clouds, the mountains, the canyons of the west. I dozed off until I heard the engine near my seat cut out or reduce power or something, and I looked down and figured the non-irrigated squares of agriculture below might be Illinois. Actually, I think we flew over the Mississippi, so maybe the first ones I saw were Iowa ... Illinois ... small towns and corn fields ... suburbs and cornfields ... housing construction and suburbs and a few fields ... suburbs ... suburbs ... brownstones, cottages, and all the other densely-packed houses of the southwest side of Chicago. Then we banked some more and turned back toward Midway Airport, flying back over the nineteenth century: dark factories, railroad yards, railroad bridges, barges, more railroads and dark factories, car dealerships, including Airway Honda, then I saw the El running in to Midway airport, and we landed.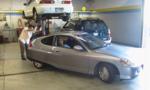 After I retrieved my tent from the baggage carousel, I found mom as she drove through the arrivals lane, and hopped right in to the minivan with great efficiency. After some chit chat with mom and Jessy I asked "You want to drop by the Honda dealer?"
And we found Pulaski, and we found Airway, and we found a cute little Honda Insight. The salesman found us, processed a credit application, got us a test drive, shared his fax for the proof-of-insurance, and handed us keys so that I got to drive home in the world's coolest car!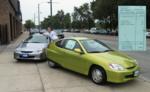 Monday in Chicago was ninety degrees and humid. Now, one thing I noticed was that in the Nevada desert I had to put on my sleeved shirt because all the air-conditioning made things chilly. When I stepped off the plane in Chicago my midwestern folk had made no such pretense about feeling comfortable - the airport was very warm. I liked it, a sort of welcome home. But what I also liked was that while Airway had gone and installed AC in my car when I didn't really want it, it was not that I really didn't NOT want it either - the option made that first drive home more comfortable. Other things I liked about MY Insight is that the car number is 2345 - a good number, and that I did buy it for MSRP. There was a green one I was curious about on the north side close to the house, but they were asking $5000 over! Incredible! That's worse than the $2500 a dealer was asking in California!
Get Back
Tuesday was pretty slow. I walked up to Walgreens to get a toothbrush, and found that our old Jewel had been replaced by a Waldo's $1 Mart. Now, Waldo's seems like a not too terrible place, but the idea that our supermarket has been replaced by a dollar store, the second in the strip mall ... and the nice restaurant that burned down has been replaced by a Blockbuster, but there's one at Chase and Western a few blocks away. Makes me wonder ... it seems like all the elderly white and Jewish folks that used to be the neighborhood are being replaced gradually by younger families of all sorts of colors. While the Jewel gives way to Waldo's, at least the hair salon next to Walgreens gave way to a BBQ place, where for dinner I enjoyed a shrimp po boy and Uncle ate some good rib tips.
On Wednesday I drove down to Grandma's house, getting about 73 MPG down Lake Shore Drive. Grandma test drove up and down the hills around her house, and then we ran some errands and had lunch at a nice, inexpensive family restaurant near her house. Then, since I was on the far south side anyway, I hopped back on 57 and drove down to Urbana. Once I found Rache and Db's, Dan and Brijeet walked over. On the way Dan saw a Honda Insight parked in front of Db's building and said "that's a cool car!" Once inside he discovered it was my car, and there was much geek excitement in he air. I showed off, gave my non-stick-shiftin' friends rides. I showed them the "WARNING! HIGH VOLTAGE! You will be killed or hurt." sticker that guards the car's battery. We picked up Tim and met with Rachel and Tong at Miko's for dinner. After dinner there was some more showing off, and Tim declared that I had hands-down won the geek race for coolest, most expensive toy. We rolled back by Tim's impressive entertainment center and watched "Cider House Rules" which was a surprisingly excellent movie. After that I dropped by Rachel's for little ice cream and chit-chat, and rolled back home at around 80 MPH. As I had been told on a mailing list, at these speeds I averaged around 52 MPG for the 300+ mile round trip. I had some fun drafting trucks though, it seems like you get the best bang for your buck riding next to the truck instead of immediately behind it. I'll keep this in mind next time I'm on an otherwise deserted two-lane interstate.
I got in at four AM. A couple hours later mom was digging around for the keys, and I explained that I had put the spare in the kitchen drawer and Happy Birthday. She drove the cool car to work as I had promised I'd let her. At lunch three of her coworkers gave it a spin around the parking lot, and among her people there was great excitement.
I rode the El down to EnterAct's current 21st/RCN offices next to the Merchandise Mart. They've replaced the human conductors with a computerized recording of all the stops and other announcements that people used to make. Now the operator just runs the train and operates the doors and pushes the buttons to make the announcer do its thing. I was kind of bummed because the new system is so much more boring and stale and relieves CTA employees of a potential creative outlet. On the other hand though, there is a lot to be said for consistent, if uninspired, quality. I reckon that for the blind, this system eliminates any guesswork they may have had to wrestle with.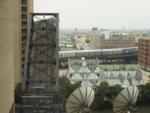 I actually walked around downtown for a bit, stopping by City Hall for a Birth Certificate. City Hall is this great huge building with vaulted, mosaic ceilings and hanging lights. Very grand and impressive and OLD! I loved walking through it, and snaking down the escalators to the basement to retrieve my record. I walked back over the river, snapping pictures, and remembered my way to the 21st Century offices. I got some pictures out of that great window that overlooks satellite dishes, an old railroad bridge, an elevated Metra line, and a chocolate factory - this would be a view I could find when I left my corporate cubicle had I stayed with EnterAct. I had lunch with Sharon down by the food court, and next week I may even have a passenger if she decides to follow through on her desires to road trip west and visit San Francisco next week. Her eyes were nearly popping out her head at the idea, and I would definitely appreciate some company on the long trek.
For dinner Jan came over and we all rode in her van to Tapas Barcelona in Evanston. Mom's birthday flan was very tasty. After dinner I whipped out Bohnanza and after the initial learning curve we all had a lot of fun. The first game we tied at ten coins apiece. After Jan went home me and Uncle tied at 17 coins apiece, and Mom and Jessy at 16 each. Officially though, we agreed that we let mom put the discard back on the draw pile so she could finish her last turn and win on her birthday.
Today, Friday? Well, I've talked with My Phuong who may be good for coffee around 9PM. I'm taking the free time to catch y'all up to speed. If I post this entry soon it will be without pictures, until I get back home and can scale some down.
---
30 July << 2000 >> 22 August
Journal
H O M E
---
This document last modified Wednesday, 19-Nov-2003 23:24:54 UTC <dannyman@dannyland.org>